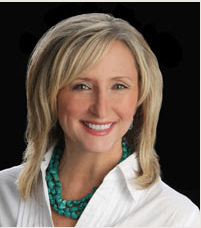 This month, we're excited to introduce you to Karen Shaffer. Karen joined Frontier as Director of Business Development for the San Antonio Office 4 years ago. Prior to that, she worked in Marketing and Sales for USA Today, and before that, her career included Wholesale Mortgage, Pharmaceutical Sales, and Flight Attendant! We asked Karen a few questions about herself, and to tell us about her experience working at Frontier Title Company. 
When did you come to Frontier Title Company?
It will be 4 years this April. I interviewed with Doug, our owner, and we found out we're both from Illinois. He went to University of Illinois – he actually grew up in the same neighborhood my husband is from – and I went to Eastern Illinois University. He said he was a Cubs fan, and I said, "Where do I sign?"
What do you think sets Frontier Title Company apart?
Honestly, we truly want to do whatever we can to make agents' lives easier. We're here for them, to help them grow in their business and be as successful as they can be. We want to make the transaction as smooth as possible, helping them every step of the way. We sincerely care about them and their clients, it doesn't matter if it's a $50,000 deal or a luxury property – we treat everyone the same. 
What do you enjoy most about your job?
Building relationships. I've made a lot of really good business relationships that are now strong friendships. I really mean that.  
What are three of your personal values?  
Honesty, Compassion, and Kindness
What is your personal philosophy?
Treat everyone the way you want to be treated.
How do you spend your time outside of work?
With family and friends!
To contact Karen Shaffer, email kshaffer@frontiertitletexas.com or call 210-393-7068.